Ballots go out to registered voters for June Primary Election
Early voting underway at Registrar's office in Kearny Mesa
More than 1.9 million ballots are on their way to San Diego County registered voters for the June 7 Gubernatorial Primary Election. "I Voted" stickers are included in the official ballot packet.
Early voting is underway at the Registrar of Voters office in Kearny Mesa. Hours run from 8 am to 5 pm Monday through Friday. However, the Registrar encourages voters to take advantage of the convenience of voting by mail.
Voters can vote from the comfort of home and return voted ballot through the mail – no postage needed – or to any of the Registrar's official ballot drop box locations around the county through Election Day..
Voters who return their ballot through the US Postal Service can track it by signing up for "Where's My Ballot?"
Residents can also choose to vote in person at any vote center. Saturday, May 28, select vote centers will be open daily from 8 am to 5 pm including Memorial Day on Monday, May 30. Then starting Saturday, June 4, over 200 vote centers will be open daily from 8 am to 5 pm
All vote center locations will be open on Election Day, June 7, when voting hours change to 7 am to 8 pm
Residents can find an official ballot drop box or nearby vote center location inside the voter information pamphlet, or can look it up online at sdvote.com.
Learn more about voting in the June Primary Election at sdvote.com, call (858) 565-5800 or toll free at (800) 696-0136.
Three Scripps Research professors
Elected to National Academy of Sciences
Three faculty at Scripps Research have been elected to the National Academy of Sciences, one of the highest honors awarded to scientists. The academy awards membership in recognition of "distinguished and continuing achievements in original research."
The election of Hollis Cline, Jane Dyson, and James Williamson brings the total number of Scripps Research faculty that hold memberships in the National Academies of Sciences, Medicine and Engineering to 30.
"All three of our faculty recognized by the Academy have contributed to major advances in their respective fields of research," say Scripps Research President and CEO Peter Schultz, PhD. "On behalf of the entire Scripps Research community, I congratulate them on this well-deserved honor."
Hollis Clin, Hahn Professor of Neuroscience, is a leader in research that explores how sensory experience affects brain development and plasticity. Her research by Ella focuses on visual circuits and how circuit development and function become disrupted in neurodevelopment disorders.
Jane Dyson, a professor in the Department of Integrative Structural and Computational Biology, studies the relationships between amino acid sequences of proteins and their structure and function. Her work by Ella has led to numerous discoveries on cancer tumor growth, drug design and the functions of important proteins in the human body.
James Williamson is the executive vice president of Research and Academic Affairs at Scripps Research and a professor in the departments of Chemistry and Integrative Structural and Computational Biology. His research interests focus on understanding RNA.
Read more…
High-stakes negotiations set to begin today
between dockworkers and shipping companies
CalMatters
Plan to buy something online in the next few months? Then you have a stake in high-intensity negotiations set to begin today between 22,000 dockworkers and the shipping companies that do business at 29 West Coast ports accounting for nearly 9 percent
of the United States' gross domestic product.
The talks between the International Longshore and Warehouse Union and the Pacific Maritime Association — slated to take place in San Francisco — come as US ports are just beginning to recover from a massive pandemic-induced supply chain crunch that resulted in massive backlogs of ships and goods and skyrocketing inflation rates.
On Friday, just 35 ships were waiting to unload their cargo at the ports of Los Angeles and Long Beach — which handle 40 percent of containers entering the US by water — compared to a record high of 109 in January, said Port of Los Angeles Executive Director Gene Seroka.
But progress hinges on contract negotiations going smoothly: "If anything further disrupts the supply chain it will be devastating," said Jim McKenna, president and CEO of the Pacific Maritime Association.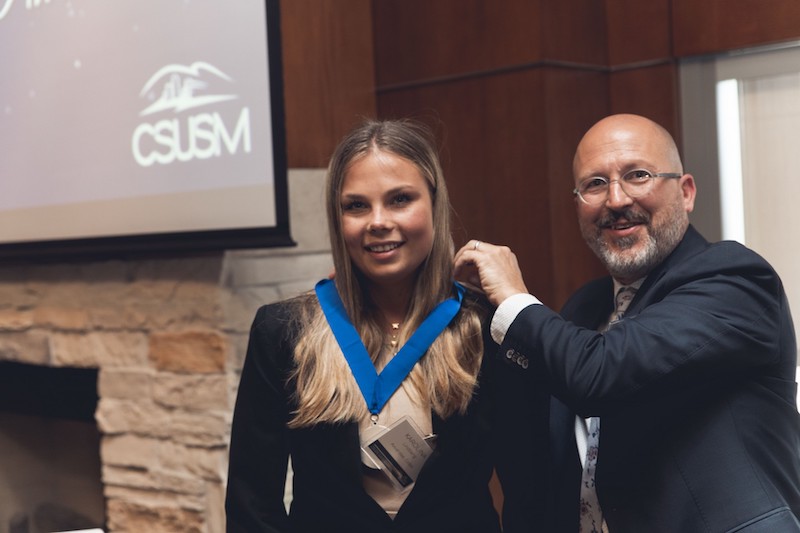 Business student's epilepsy leads to new beginnings
by Bri Phillips
Karolina Lindberg never had many complaints about her epilepsy. She was aware that she would not be able to drive a bus or become a police officer or firefighter because of her diagnosis of her. But Lindberg did not know her epilepsy would stop her from pursuing her dream career.
Lindberg always wanted to find a career that would allow her to see more of the world while she was growing up in Sweden. She set her sights on becoming a flight attendant for the travel opportunities, but her epilepsy de ella made it impossible. Instead, she became a flight coordinator at Scandinavian Airlines.
Although Lindberg didn't get to pursue her initial career choice, she still made the leap to see a different part of the world. A chance encounter with a passenger while working for Scandinavian Airlines led her to Cal State San Marcos. Three years later, Lindberg is graduating with a degree in global business management and will be recognized at the College of Business Administration commencement ceremony on May 21 as the Gerevas Family Dean's Award Recipient.
Read more…
Hawthorne Country Store moves to new location in Fallbrook
Hawthorne Country Store has moved to a new location in Fallbrook, taking over the Fallbrook Fertilizer Feed and Farm Supply space.
Brad Urquhart's successful Fallbrook Fertilizer Feed and Farm Supply has been a staple in the Fallbrook farming community since 1976 and will pass on their legacy, collaborating with the Hawthorne and Thelen families, who own Hawthorne Country Store.
"The timing worked out nicely as we were looking to grow in Fallbrook, while Brad and Dori (Urquhart) decided to retire; this provides a nice opportunity for us to merge our teams together," said Heather Thelen, owner of the Hawthorne Country Store.
With nearly double the space, Hawthorne Country Store plans to add to the powerful pet and garden areas, with Hawthorne's popular apiary, canning, clothing, tack, saddles, livestock, cheese making and barn supplies, and serve the Fallbrook community on livestock, homestead , and all things country.
Hawthorne Country Store also has two other locations: in Escondido at 675 W. Grand Ave., and Santee at 10845 Woodside Ave. For more information, visit
www.HawthorneCountryStore.com.
MiraCosta College takes top honors from Downbeat
The MiraCosta Music Department has received two 2022 Student Music Awards from the nation's premier jazz magazine, DownBeat.
The MiraCosta Oceanside Jazz Orchestra, more commonly known as MOJO, was named the top large jazz ensemble in the community college category. This is the second time MOJO has received top honors from the magazine. The first time the jazz ensemble was named top ensemble was in 2017.
In addition to MOJO being recognized by the jazz magazine, guitarist Adam White received an award for Outstanding Performance for a Jazz Soloist in the community college category.
"DownBeat is the premier jazz publication in the world. We work very hard, and it just feels great to be acknowledged by them in this way," said Steve Torok, Music Department chair and director of MOJO.
Torok said that the process to submit for the Student Music Awards takes about a year. With COVID‑19, Torok along with department sound engineer and recording instructor Matt Carruthers, found new ways to have students record their parts at home. Working from home allowed for a more flexible and collaborative process.
San Diego's Aspen Neuroscience
$147.5 million Series B financing
Aspen Neuroscience Inc., a private San Diego biotechnology company developing autologous cell therapies, including the first iPSC-derived autologous neuron replacement treatment for Parkinson's disease, announced the close of its Series B funding round of $147.5 million.
GV, LYFE Capital and Revelation Partners co-led the investment round with participation from additional new investors Newton Investment Management, Singapore-based global investor EDBI, LifeForce Capital, Medical Excellence Capital Partners, Mirae Asset Capital, NS Investment and others. As part of the financing, Doug Fisher of Revelation Partners will join the board of directors.
The Series B funding will support the planned studies of the company's lead product candidate for Parkinson's disease, ANPD001, including its patient Screening Cohort study and the upcoming Phase 1/2a clinical trial, post-IND submission to FDA.
Industrial building in Vista receives $27.4 million in financing
JLL Capital Markets has arranged $27.4 million in financing for the acquisition and repositioning of 2065 Thibodo Road, a 76,872-square-foot industrial building in Vista. The building will be repositioned for future life science use. The borrower is a joint venture between Lincoln Property Company and Angelo Gordon.
The new owner plans to convert the existing square footage, currently consisting of traditional R&D and manufacturing space, into manufacturing space for life science users. The property features 149 parking stalls.
The JLL Capital Markets team representing the borrower was led by Senior Managing Directors Aldon Cole and Jordan Angel, Associate Daniel Pinkus and Analyst Auden Menke. Managing Director Joe Anderson arranged the sale from the previous owner and currently represents the borrower in their efforts to lease the building.
GRIDSMART Protect named finalist in Fast
Company's 2022 World Changing Ideas Awards
Cubic Transportation Systems' GRIDSMART Protect has been named a finalist in Fast Company's 2022 World Changing Ideas Awards in the AI ​​& Data category. GRIDSMART Protect is a cutting-edge platform designed for municipalities seeking to increase safety for vulnerable road users by bolstering existing infrastructure.
GRIDSMART Protect leverages cutting-edge AI to track pedestrians and bicyclists as they enter, travel through, and exit intersections, reducing or extending clearance times as needed to streamline intersections and give valuable time back to other road users when possible. GRIDSMART Protect sets itself apart by prioritizing VRUs while simultaneously reducing traffic congestion for all.
Scientists use genetics research tools
to evaluate diversity of marine life
Scientists at Scripps Institution of Oceanography, the J. Craig Venter Institute (JCVI), and the National Oceanic and Atmospheric Administration (NOAA) used tools of genetics research akin to those used in genealogical research to evaluate the diversity of marine life off the California coast .
The result is a breakthrough technique that researchers will be able to use to diagnose conditions at the base of the ocean food web that affect the abundance of commercially important fishes or create harmful algal blooms. From the information gathered by a method called "metabarcoding," scientists can also use so-called environmental DNA (eDNA) to evaluate how effectively the oceans can protect the planet from the effects of climate change.
The team reports on the findings May 4 in the journal Nature Communications. The work was funded by the National Science Foundation (through the California Current Ecosystem Long-Term Ecological Research project), NOAA, and the Gordon and Betty Moore Foundation.
Read more…